Local 94—Running
New York's Buildings

News
The Cutting Edge - Spring 2018

Read the most recent newsletter.

Reminder: Union Dues

Please note, effective January 1, 2018, the maximum monthly dues are $90.18. Dues for 40 hour contracted work weeks are calculated by multiplying the hourly rate x 2.50; for 35 hour contracted work week hourly rate x $2.20; for 37 1/2 hour contracted work week hourly rate x $2.36, up to a maximum of $90.18. When the hourly rate increases, the dues increase, up to the maximum monthly dues.

9/11 Asbestos Debris Lawsuits Cleared by NY Appeals Court

NY High Court Gives OK for 9/11 Cleanup Crews to Sue Over Asbestos Exposure. Read the NY Daily News article.
Upcoming Events
Jun

06

Initiation Ceremony for New Members will be held at the Hotel Trades Council located at 305 W 44th Street, Mezzanine Floor on Wednesday, June 6th, 2018 at 4:00 P.M.

Jun

13

General Membership Meeting. Times: 8:30 AM, 2:00 PM, and 5:00 PM Meetings are held at the Hotel Trades Council Auditorium, 305 West 44th Street.

Jun

13

Local 94 Service Award Ceremony. The Service Awards Ceremony will be held on Wednesday, June 13th at 5:00 p.m. Members with 25, 30, 35, 40, 45 & 50 years of Service will receive an invitation. Members are encouraged to attend.
Wellness News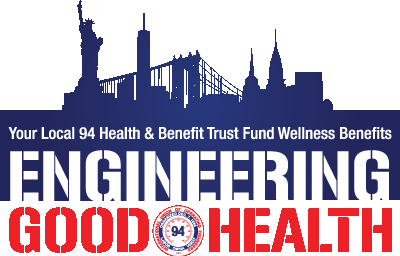 May 16, 2018
May 16, 2018
May 16, 2018
Need to Find a Doctor, Dentist or Vision Specialist?
FAQs
Why is my Annuity Fund account balance less on my statement than it was last quarter?
Individual accounts fluctuate in accordance with the funds that they are invested in. They can lose or gain value. Participants should consider the choices of investment carefully and based on your personal circumstances.