Local 94
The International Union of Operating Engineers Local Union 94, 94A, 94B was established to represent employees covered by collective bargaining agreements between the Union and various employers, employer associations and the City of New York with office buildings and schools requiring maintenance of heating and air conditioning systems in the New York metropolitan area.
The work of the Union, as the representative of its members, is to provide for the continuous employment of labor, to bring about stable conditions in the industry, and to establish necessary procedures for the amicable resolution of disputes which may arise between employers and employees.
Business Manager's Report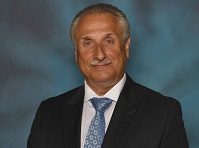 Emerging Cautiously We Prepare for Elections & A Return to Normalcy
Brother and Sisters,
After more than two years of social distancing, apprehension, masks, sidewalk dining, and sadly the horrible loss of life within our families and among friends and acquaintances, it appears we are emerging from this nightmare pandemic.
I want to congratulate and salute every member of this union. At a time when literally, every school, every restaurant, tavern, and building were closing their doors, you showed up and did your job!
Not only did you keep our cities commercial buildings, schools, hotels, and apartment buildings open, you worked to improve the ventilation and purify the air to create not only efficient, but healthy buildings! I know you all have heard me tell anyone who will listen: the Members of Local 94 are the best-trained, the most highly skilled engineers in the world!
And you always prove me right.
No matter what the situation: Blackouts, September 11th, Superstorm Sandy, and now a global pandemic, you kept our buildings open and ready for the tenants to return.
Thank you!
As a result of the pandemic we were unable to conduct our meetings at the Hotel Trades Council Auditorium. Even when we were finally able to hold in-person meetings we had to conduct them at the New Yorker Hotel. 
Between the new venue, social distancing requirements and other factors attendance numbers were down. There were, however, a solid group of members who despite the challenges managed to make every meeting.
They know who they are, and they deserve our thanks and appreciation.
Thank you!
Local 94 Nominations and Elections
Since we've returned to the HTC Auditorium there has been a noticeable increase in attendance. Hopefully those numbers will continue to rise. This is your union, and your voices and perspectives are important and deserve to be heard.
Your voices will be especially important at the May 11 Membership Meeting. That is when your Local will accept Nominations for the Election of Officers of Local 94, IUOE.
It seems hard to believe it has been three years since you elected our team to office. On behalf of the entire Local 94 leadership team, we appreciate the trust you have placed in us. We never took your support for granted. We have done everything in our power to represent you to the best of our abilities.
We hope you will continue to put your trust in our team.
This is a democratic union, and all voices should be heard and represented. Toward that end, a notice letter explaining the nomination and election process will be sent to the home of every member in good standing. A copy of that letter can also be found on pages 6 and 7 of this newsletter.
RAB Negotiations
We may be in Spring, but it is never too early to focus our attention on the RAB Agreement which will expire at the end of the year. As we emerge from the pandemic, we expect a great deal of the negotiations will be centered on the impacts and lost revenue due to Covid-19.
The RAB is well aware it was you, the members of Local 94, who kept their buildings up, running, and ready to accept the return of tenants throughout the crisis. We have no way of knowing if those memories will remain at the negotiation table.
We have no idea how hard of a line they might take once negotiations are underway.
Our Local has been fortunate, it's been a long time since our members have had to walk a picket line. No one wants that now. But as we've learned over the past two years, there are no guarantees.
We must prepare for any contingency. As in the past we are once again preparing to organizeOperation Deep Freeze.Under the direction of the Local 94, leadership teams will be created to fulfill designated roles, should there be a strike or lockout.
Local 94 has never failed to stand up for our members. Are you ready to stand up for Local 94?
A Return to Normalcy or a New Normal?
As we cautiously move forward, it gives me great pleasure to announce we will once again be able celebrate career milestones with the Service Awards; the scholastic achievements of our children with the Scholarship Dinner Dance, as well as the Summer Picnic and the Golf Outings that raise the money to fund these events.
So, although we've been unable to meet for the 2021 Service Awards, we do want to recognize those members who have been in our Local for 25 years and more. You will find names of those honorees on pages 10 and 11.
And, while we couldn't meet them at the picnic or dinner-dance, graduation photos and some information on our Scholarship Honorees can be found on pages 17-19 of this newsletter.
Congratulations to all!
Finally, it is my great pleasure to welcome Brian Fabian to the Executive Board.
In Solidarity,
Kuba J. Brown
Business Manager/Financial Secretary-IUOE Local 94, 94A, 94B
More topics in this section:
Need to Find a Doctor, Dentist or Vision Specialist?
FAQs
What is my current status?
Please call the Union Office at (212) 331-1800. You can also visit the Contact Us page for more information.