Local 94
The International Union of Operating Engineers Local Union 94, 94A, 94B was established to represent employees covered by collective bargaining agreements between the Union and various employers, employer associations and the City of New York with office buildings and schools requiring maintenance of heating and air conditioning systems in the New York metropolitan area.
The work of the Union, as the representative of its members, is to provide for the continuous employment of labor, to bring about stable conditions in the industry, and to establish necessary procedures for the amicable resolution of disputes which may arise between employers and employees.
Business Manager's Report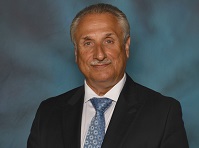 After the Winter Winds - a New Administration and Hope for Spring
Dear Brothers and Sisters:
After the long, cold and brutal winter, welcome to the spring edition of our newsletter. I want to begin once again by thanking you – the members — for your dedication and hard work over the past several months.
No matter how bitter the cold; how high the snow was piled; and ferocious the winds you kept your buildings up, running, operational and warm. Your dedication and devotion to your profession is a model for working men and women everywhere.
It is not by accident that Local 94 has a reputation for excellence throughout the commercial building industry and within our brother and sister unions. This winter you have once again not only lived up to that reputation, you have enhanced it.
Once again you have made us all proud.
There was lot more that happened this winter and its impact is sure to last longer than the snows that piled on our streets. January brought us an almost entirely new government in New York City.
They each ran on a progressive agenda and promise of a government that will expand opportunities for the poor, strengthen the middle class, and create a more equitable city. The voters have spoken: Bill de Blasio is now Mayor, Scott Stringer is Comptroller, Letitia James is the Public Advocate; and the new, progressive city council has elected Melissa Mark-Viverito as the new Speaker of the City Council.
The new legislators wasted no time in passing a paid sick-leave bill; pushed for a fully-funded universal pre-kindergarten program; an increase in the minimum wage; and the preservation and development of low, moderate income housing.
By design most of these programs are created to lift the poor. But where are we lifting them to? Every day we see the children and grandchildren of the families who built and maintained neighborhoods across the five boroughs being squeezed out of their neighborhoods by soaring rents and an explosive real estate market.
More and more we see the middle-class falling further, and further behind. What was once the "American Dream," of a growing and healthy middle class is drifting away. We must remind our newly elected leaders they also have an obligation to the middle class families who live and work in this great city.
According to a recent New York Times report the current economic recovery is being driven by the top 20 percent of earners. The business world has responded by expanding their high and low level offerings and while paying less attention to mid-range products.
"As a retailer or restaurant chain, if you're not at the really high level or the low level that's a tough place to be," John Maxwell of PriceWaterhouse Coopers told the Times. "You don't want to be stuck in the middle."
I can only wonder what any of those labor leaders and workers who stood up and sacrificed to create America's great middle class might think of the notion of being stuck?
Unfortunately what follows behind being stuck is falling behind. As a union we must stand up and stand together and build on our great trade union legacy and ensure a future of opportunity for our children and for generations to come.
Fraternally,
Kuba J. Brown
Business Manager/President-IUOE Local 94, 94A, 94B
Assistant Business Manager's Report
Bringing a New Look and Feel to a Class A Tower on Madison Avenue
High-end shoppers need no help in finding the building on the northeast corner of Madison Avenue and East 60th Street. As the home of Donna Karen's DKNY flagship store, Schutz Shoes and Kara Ross the corner is a fashionistas paradise.
The 25-story 230,922 square-foot tower is also home to the Lowes Corporation and Estee Lauder. It is the responsibility of Chief Engineer David Rodriguez, Engineer Mitch Capuano and Helper Luis De la Cruz, to ensure and provide owners, tenants and visitors the highest standards of comfort and service.
Built in 1952 the glass and steel tower remains one of Colliers International trophy towers thanks to nearly a decade of ongoing upgrades and improvements.
Improvements include new over clad curtain wall, newly renovated lobby, the install of central plant/plate exchanger, new cooling towers and a new BMS system. All designed and implemented with an overall focus on operating the building more efficiently with new technology, reducing energy and steam consumption, while at the same time ensuring that the service to the tenants was never affected.
In all Chief Rodriguez and his crew have overseen, assisted or implemented all of 655 Madison's improvements which include:
• New lighting design in the lobby resulting in a reduction of energy usage and savings.
• Replace hot water tank with an instantaneous hot water heater
• Implement an aggressive steam trap replacement program, which reduced steam use
• Installation of plate exchanger
• Installation of new domestic water pumps
• Increased cooling tower tonnage to accommodate existing tenant base and new tenants
• Installation of a (BMS) building monitoring system with Direct Digital controls. The new controls would significantly improve the system operations and also lead to significant energy savings.
• Installed VFD on air handling units and VAV on tenant space to reduce electric consumption.
No matter what the challenge, Chief Rodriguez, Capuano and De la Cruz have been up to the task, and take great pride in each new improvement. "To think that we didn't have a BMS when I started here three years ago, it's been pretty exciting," said Rodriguez.
Property Manager Peter Zientara is pleased with what has been happening as well. "Thanks to this crew we do almost all our repairs in-house," said Zientara. "There is nothing that will make a building manager happier than to be in a building where everyone cares as much as these guys. You can't have it better than this." 
More topics in this section:
Need to Find a Doctor, Dentist or Vision Specialist?
FAQs
When are Union meetings?
Local 94 meetings are held on the second Wednesday each month, at 8:30 AM, 2 PM and 5 PM. Please note that there are no meetings in July and August. For more information, go to the Upcoming Events page.