Local 94
The International Union of Operating Engineers Local Union 94, 94A, 94B was established to represent employees covered by collective bargaining agreements between the Union and various employers, employer associations and the City of New York with office buildings and schools requiring maintenance of heating and air conditioning systems in the New York metropolitan area.
The work of the Union, as the representative of its members, is to provide for the continuous employment of labor, to bring about stable conditions in the industry, and to establish necessary procedures for the amicable resolution of disputes which may arise between employers and employees.
Business Manager's Report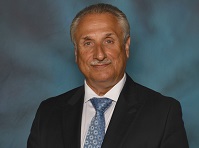 The Power of One! Hope Will Rise From Chaos and Despair
Brothers and Sisters,
The headlines are as ominous as they are frightening: U.S. Supreme Court ruling in Janus v AFSCME Could Cripple Labor Unions; 17 Killed in Florida High School Shooting; Russians Penetrated US Voter Systems, Top US Official Says; Another Trump Official pleads Guilty in Mueller Probe.
We wake up in the morning and wonder, what next?
We know we can't continue on this path. We can only sustain these hits for so long. We should all be grateful for the Founding Fathers who built a system which has allowed us to withstand the Civil War, the Great Depression, two World Wars and countless other challenges.
It is also a tribute to the American people. Throughout history when faced with a crisis the people of this nation who arrived from the four corners of the earth, comes together and stands as one. Sometimes it takes a little longer for everyone to get on the same page, but it happens.
And, it is during our most trying times new leaders arise.
A cigar maker from Lower East Side emerges to create the Federation of Labor, a black woman takes a seat in the front of a bus, and helps bring an end to segregation. We never know where or when those leaders materialize. Somehow, thankfully they always show up.
Today they arrived in the form of the students from Parkland, Florida. Having lived through the slaughter of 17 of their classmates and teachers at the hands of an angry young man with a weapon of war, they stood united to send a clear message to the nation. "No More!
We have seen their rallies and demonstrations from the state house in Florida to the Capitol in Washington, DC. They are heard on news shows and quoted in newspapers and magazines. They dominate social media.
Their message is not only being heard around the country, it is resonating around the world.
And, their voices are being heard.
No matter how you feel about the Second Amendment, no one needs weapons of war for hunting or self-protection.
Now after nearly 20 years of mass shootings from Columbine to Sandy Hook to Las Vegas to Parkland, the calls for strengthening our gun laws are finally being heard.
Because the kids from Parkland stood up the Florida Legislature voted to enact a waiting period to purchase a gun, and prohibited the sale of long rifles to anyone under the age of 21. Less than a week later the bill was signed into law.
Their actions have also initiated similar movements throughout the county. Movements that have led to the introduction of tougher gun laws in nearly a dozen other states.
Standing Up For Unions
Late last month the Supreme Court of the United States heard arguments in Janus v. American Federation of State, County and Municipal Employees (AFSCME). The case centers on the longstanding precedent allowing public sector unions to collect "agency fees" from union-covered employees who do not wish to join the union.
Janus argues that those fees violate his First Amendment rights to free speech, because the union takes positions he does not support.
While this case is currently limited to public sector unions, should the Court side with Mr. Janus, it would, much like Right to Work laws have serious ramifications for all unions.
That is why, on the Saturday before the Court heard those arguments union members from across the metropolitan area held a solidarity rally in Foley Square. I want to express my thanks and gratitude to our brothers and sisters within Local 94 who turned out and made sure our voices were heard.
Hopefully they resonated in Washington.
However, with the conservative majority sitting on the Supreme Court there is sense Janus will prevail by a 5-4 vote. To be honest there was not much optimism within the union movement in the days following the hearing.
Then something stirred in the hills of West Virginia. The state's 20,000 school teachers — who earn an average of $45,000 a year — and had not had a raise in four years went on strike. After years of cuts to West Virginia's education budget and an increase in the teacher's contribution to the medical plan, the teachers had enough.
So, like the students in Parkland, West Virginia's teachers said: "No more!"
Immediately after the walkout Governor Jim Justice offered the teachers a 1-percent raise for the next five years. According to the New York Times when the teachers factored in inflation, the raise amounted to a 5 percent cut.
The teachers turned it down. After a series of negotiations Justice returned with an offer of 5% increase per year. In West Virginia, Justice did not have the final word. Because West Virginia is a right-to-work state the teachers do not have a collective bargaining rights so the deal needed legislative approval.
The West Virginia legislature, which never saw a tax cut they didn't love, or a wage increase for state workers they couldn't abide, decided to cut the proposed raise to 4%. The teachers refused to go back to work. The teachers walked picket lines, held rallies and spread their story throughout the state and across the county. They would not go back to work without that 5% raise.
Finally, after nine days, Justice and the legislature agreed to the 5% increase. The teachers apparently taught the governor a valuable lesson. "We have to move away from treating education as some necessary evil," said Justice. "Education is a process and an investment in our future."
As for the teachers, Katie Endicott, a high school English teacher told the Times: "We come from an area that is known for standing up for what they believe in. We're just reviving the movement that was started years ago."
It is a movement we in Local 94 and union men and women everywhere should be committed to keep alive!
In Solidarity,
Kuba J. Brown
Business Manager/President-IUOE Local 94, 94A, 94B
More topics in this section:
Need to Find a Doctor, Dentist or Vision Specialist?
FAQs
What if I get injured on the job?
Benefits are not payable for occupational accidents, injuries or sickness covered by any Workers' Compensation statute or similar legislation. All claims in relation to an injury or a condition that is directly or indirectly job-related are not covered by the Fund. For more information, please visit the Health and Safety section.