Local 94
The International Union of Operating Engineers Local Union 94, 94A, 94B was established to represent employees covered by collective bargaining agreements between the Union and various employers, employer associations and the City of New York with office buildings and schools requiring maintenance of heating and air conditioning systems in the New York metropolitan area.
The work of the Union, as the representative of its members, is to provide for the continuous employment of labor, to bring about stable conditions in the industry, and to establish necessary procedures for the amicable resolution of disputes which may arise between employers and employees.
Business Manager's Report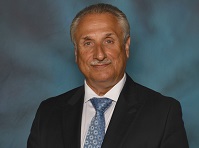 Thank You for Keeping Us Strong, and Getting the Job Done
Dear Brothers and Sisters:
At a time when we are about to gather with family and friends to celebrate Thanksgiving, I want to thank you. By voting to approve the dues increase you have saved our union.
I especially want to thank the several hundred members who took the time to attend the information session at the UFT, and the 85% who voted for the increase. Without your support and participation this union cannot survive.
There was also a very interesting coincidence on the day of that critical vote. Even as members were casting their ballots at our Training Center, dozens of new members were being sworn-in down the street at the HTC Auditorium.
As a result of those simultaneous events our union and our families can look forward to a strong union and secure future.
We must remain strong because the Koch Brothers and others of their ilk have no plans to end their attacks on unions. That was made clear soon after the poster boy for union busting Wisconsin Gov. Scott Walker ended his bid for the presidency. Within a day his announcement there were published reports the Koch brothers were prepared to hand their $1 billion war chest to Marco Rubio, or some other anti-union candidate.
The Koch's are not alone. According to the New York Times, nearly half of all political contributions in the United States were made by a total of 158 families (NYT Oct. 10, 2015)! You better believe they don't have your interests in mind!
That's all I am going to say on this subject for now. But I urge you read a new feature in this newsletter written by Bill Caramico which is dedicated to union issues (see page 18).
Bill, who teaches a labor history course as part of our Training Center curriculum, was recognized as a "Hero of Labor" by Labor Press. I had the great privilege of presenting Bill his award. I want to once again congratulate Bill, as well as all the other "Heroes of Labor" honorees, including our attorney, Vincent Pitta.
Few people have articulated the current struggle to preserve labor rights than Vinny Pitta did that evening. He so moved the audience I asked his permission to publish his remarks in this newsletter (see page 22).
While on the subject of awards, Local 94 Chiefs and Engineers swept the REBNY Small and Large Building Engineer of the Year and Best Engine Room Awards, and 230 Park Avenue was awarded BOMA's International Historical Building of the Year.
These awards are testament to the dedication and commitment not only of the honorees, but I believe they reflect the efforts of all our Chief's, Engineer's and Helpers.
Congratulations to all!
And finally, I want to wish each of you and your families a very Merry Christmas and a Happy New Year!
In Solidarity,
Kuba J. Brown
Business Manager/President-IUOE Local 94, 94A, 94B
More topics in this section:
Need to Find a Doctor, Dentist or Vision Specialist?
FAQs
Why do we pay union dues?
Dues provide the Union with the resources needed to stand up for good jobs, benefits, decent working conditions, and a better future for our families. Dues also provide the funding needed to give workers power at the bargaining table and in the community.