Local 94
The International Union of Operating Engineers Local Union 94, 94A, 94B was established to represent employees covered by collective bargaining agreements between the Union and various employers, employer associations and the City of New York with office buildings and schools requiring maintenance of heating and air conditioning systems in the New York metropolitan area.
The work of the Union, as the representative of its members, is to provide for the continuous employment of labor, to bring about stable conditions in the industry, and to establish necessary procedures for the amicable resolution of disputes which may arise between employers and employees.
Business Manager's Report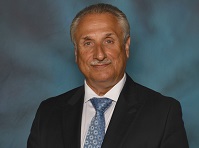 A May to Remember: Elections; Justice; and an Open House
Dear Brothers and Sisters:
I want to begin by thanking each and every one of you for your confidence, trust and support by voting to re-elect the entire executive board. I can't tell you how honored we are that more than 400 of our Brothers and Sisters took the time to attend the nomination meetings.
Your outward show of support was as meaningful to us as the overwhelming "white ballot" election.
On behalf of Mike Gadaleta, Tom Hart, Ray Macco, Kelly Drummond, Jack Redden, Eddie Burke, John Cancel, Vince Curcio, Bill Caramico, Anthony Fasulo, Rocky Ferrigno, and David Rodriguez thank you.
We could not be more proud to represent our members and we will continue to work tirelessly on behalf of you and your families.
As a member of IUOE Local 94 for 45 years I was fortunate to have the support of my co-workers and chiefs who helped me grow as an engineer.
During that time I saw our union grow under the courageous and imaginative leadership of men like Jim Conroy, Peter Darlington, John Bowen, Sr., and Mike Carney. They were the leaders who set us on the path to become among the most respected unions in the industry.
It wasn't always easy for them. But with an eye to the future and the courage of their convictions they never backed away from a fight in their pursuit of better wages, benefits and training — even if it meant taking the members out to streets and onto a picket line.
Just as they built this union on the shoulders of those who served before them, I promise you, your leadership team will do our best to build upon their legacy.
To serve as a reminder of that legacy, and to recognize and honor their contributions to Local 94 we have dedicated four memorial plaques in the reception area of our Fund offices. When you visit, look at them and remember: we would not have those Funds were it not for them.
At Long Last, Justice
As proud as I was for winning another three years as your Business Manager and President, it could not match Local 94 winning our nearly 15-year struggle for pay equity for our brothers and sisters in our schools!
Under the terms of the agreement with the Department of Education, hundreds of Local 94 members who worked in schools under custodians were earning as much as 25% less than their brothers and sisters working under private contractors.
It was an unfair and unjust system instituted under Mayor Bloomberg, and Mayor Bloomberg made no effort to change it.
Led by Ray Macco, Jack Redden and hundreds of our members who attended rallies, wrote to their legislators, and testified at hearings we would not give up our fight for justice.
When Mayor de Blasio was elected he promised to correct this terrible wrong. Earlier this year we were able to sit down and develop a plan to bring justice to those who lagged behind.
It wasn't easy. But after months of intense negotiations we reached an agreement.
On May 4, more than 400 of our school members gathered at the historic Cooper Union in the East Village, the building where Abraham Lincoln first explained why we should end slavery, to hear the details of a contract that brought them equality.
The following day many of those same members voted overwhelmingly to approve the contract. (You can read more about the historic deal on page 4).
Training Center Hosts Open House
And, as if May wasn't busy enough on Friday, May 13th Training Fund Co-Directors Howard Styles and Bobby Fantine hosted a 30th anniversary open house at the center. (See story on page 16).
Led by City Council Speaker Melissa Mark-Viverito and State Senator Brad Hoylman, and other members of City Council and the Assembly as well as leaders of the industry and champions of the environmental and sustainability movement were provided an inside look at our center.
Along with an opportunity to lead several guests, including Speaker Mark-Viverito on a tour of the center, experts and representatives from the NYS DEC, FDNY, City Tech, NYSERDA and the UA School for Green Careers addressed the audience.
The UA School for Green Careers assistant principal Luke Janka used the occasion to promote the new partnership between Local 94, the RAB and the school, which will utilize our facilities, to train and provide career opportunities for students who graduate from the school.
Our union has short but proud history. With a new contract for our school division; and opening a new pathway to opportunity, Local 94 will have an equally bright future.
In Solidarity,
Kuba J. Brown
Business Manager/President-IUOE Local 94, 94A, 94B
More topics in this section:
Need to Find a Doctor, Dentist or Vision Specialist?
FAQs
When are Union meetings?
Local 94 meetings are held on the second Wednesday each month, at 8:30 AM, 2 PM and 5 PM. Please note that there are no meetings in July and August. For more information, go to the Upcoming Events page.