Local 94
The International Union of Operating Engineers Local Union 94, 94A, 94B was established to represent employees covered by collective bargaining agreements between the Union and various employers, employer associations and the City of New York with office buildings and schools requiring maintenance of heating and air conditioning systems in the New York metropolitan area.
The work of the Union, as the representative of its members, is to provide for the continuous employment of labor, to bring about stable conditions in the industry, and to establish necessary procedures for the amicable resolution of disputes which may arise between employers and employees.
Business Manager's Report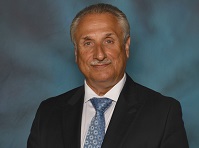 Country Got What it Asked For; Now We Must Fight to Keep What We Have
Dear Brothers and Sisters:
Let me begin by wishing you and your families, a very Merry Christmas and a Happy and Healthy New Year. Enjoy and celebrate the holiday season and be thankful that we are blessed to live in a country where we enjoy free, open elections, and live together in peace no matter the outcome.
We extend our congratulations to President-elect Donald Trump, who grew up in Queens and who now holds the most powerful office in the land, if not the world.
Mr. Trump's narrow victory certainly surprised the pollsters and pundits, and every newspaper editorial board in the country. His message however resonated throughout the heartland.
Trump was short on details; often raw, harsh and even hateful. But he was speaking to an audience of proud men and women who had been suffering, and who felt no one was paying attention to their problems.
He was able to energize those millions of our brothers and sisters who worked in the mines and factories and auto plants who watched as their jobs disappeared because of new technologies or trade agreements like NAFTA.
I am also aware the president-elect had morethan his fair share of supporters among our members. Whether your vote was intended to shake things up, or send a message, you were not alone.
Donald Trump will be our next President.
He will govern with a Republican controlled Congress. A Republican Party which for years has been attacking unions, fighting efforts to raise the minimum wage, while at the same time was lowering taxes for the rich.
While everyone has questions about Supreme Court appointments, the new administration will also appoint the members of the National Labor Relations Board. Enacted by Congress in 1935, the NLRB was created to protect the rights of employees and employers and encourage collective bargaining and discourage unfair labor practices.
How even-handed will these new appointees be?
We have already seen how 26 states under Republican rule introduce union-busting "Right-to-Work" laws. Now in total control of the federal government we have to ask how safe are the laws including the National Labor Relations Act, or even the Taft-Hartley Act? Legislation passed by Congress 80 years ago which provided employees the right to have a union and engage in collective bargaining.
The nation has spoken. As Americans we will honor the decision. But as a union we must also be prepared to fight to hold on to what we have.
In Solidarity,
Kuba J. Brown
Business Manager/President-IUOE Local 94, 94A, 94B
More topics in this section:
Need to Find a Doctor, Dentist or Vision Specialist?
FAQs
Where are Union meetings?
Local 94 meetings are held at the Hotel Trades Council (305 West 44th Street, Second Floor; located between 8th & 9th Avenues). For more information, go to the Upcoming Events page.