Local 94
The International Union of Operating Engineers Local Union 94, 94A, 94B was established to represent employees covered by collective bargaining agreements between the Union and various employers, employer associations and the City of New York with office buildings and schools requiring maintenance of heating and air conditioning systems in the New York metropolitan area.
The work of the Union, as the representative of its members, is to provide for the continuous employment of labor, to bring about stable conditions in the industry, and to establish necessary procedures for the amicable resolution of disputes which may arise between employers and employees.
Business Manager's Report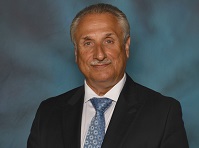 Secure in Our Agreements; Fight Rages to Save Union Rights
Dear Brothers and Sisters:
Despite all the disruptions created by snow, ice and freezing temperatures we were able to negotiate and ratify a new labor agreement with the Realty Advisory Board for Labor for our commercial members; the Department of Education and Local 891 for our school members.
And, while it took a bit longer, we were also able to negotiate a new contract for our six members employed by Covenant House.
While these agreements will assure labor peace and provide security for our members and our families, there is work to be done.
For us, that means to finally gain equal pay for equal work for our neatly 1,000 members classified as "indirect employees" by the Department of Education. This injustice which prevents us from negotiating directly with the Department of Education on behalf of those members must end. We made that clear in our contract negotiations.
Our agreement includes language to establish a joint committee to address this issue. Local 94 along with SEIU 32BJ and others recently testified before the City Council (see related story on page 5 ), to shed light on economic injustices our brothers and sisters working in our New York City schools live with every day.
Testifying at hearings is only a small step in our fight for a just wage. I assure you, Local 94 is prepared to meet with anyone, anywhere, anytime and do whatever it takes to make our members whole.
We can wage our fight with confidence because we have a strong union.
Unfortunately after more than 60 years of relentless state by state assaults on unions through the passage of right-to-work legislation have so impacted union membership that the ability of unions to collectively bargain may be lost forever.
How, you may ask, can having the right to work hurt the unions? Everyone should have the "right to work!"
Well everyone does have a right to work. But what "right to work" actually does is to permit employees in a union shop to enjoy all the benefits of the union contract without having to join the union, pay union dues or "agency fees."
The premise of the law is that paying dues or fees to the union is a violation of your First Amendment rights. That is how it is sold to the workers. "Free yourselves from the shackles of the union."
While selling that to workers, governors and legislators are running a race to the bottom in their attempts to attract new business and industry to their states with the promise of lower wages. The trend is spreading like wildfire in our nation's heartland.
It started in 2012 with Indiana Governor Mitch Daniels; less than a year later Michigan Gov. Rick Snyder pushed for, and signed right-to-work legislation. Not wanting to fall behind his neighboring states in lowering the cost of labor Gov. Scott Walker of Wisconsin signed a right to work bill in March.
With his signature, Wisconsin became the 25th state to weaken union rights. And he will not be the last. The Senate in Kentucky and House in Missouri have already passed RTW laws in an effort to keep up in the race to the bottom.
And, who knows how deep that bottom runs. As the Chicago Tribune noted in a March 3rd Editorial:
"A 2012 overview by the Congressional Research Service found that right-to-work states tend to have lower unionization rates, lower wages and greater job growth than "union security" states do..."What's unarguable is that laws crimping unions also reduce their memberships, revenues and political power.
"The Washington Post reported Monday that, in the four years since Wisconsin's controversial Act 10 reduced the collective bargaining rights of public employees, unionrolls have plummeted: "The state branch of the National Education Association, once 100,000 strong, has seen its membership drop by a third. The American Federation of Teachers, which organized in the college system, saw a 50 percent decline. The 70,000-person membership in the state employees union has fallen by 70 percent."
So as we enjoy the wages, and benefits of our new agreements, we must remain vigilant.
If you don't think it can't happen here, just ask your union brothers and sisters in Michigan, Indiana, Wisconsin, Illinois… 
In Solidarity,
Kuba J. Brown
Business Manager/President-IUOE Local 94, 94A, 94B
More topics in this section:
Need to Find a Doctor, Dentist or Vision Specialist?
FAQs
What is my current status?
Please call the Union Office at (212) 331-1800. You can also visit the Contact Us page for more information.