Local 94
The International Union of Operating Engineers Local Union 94, 94A, 94B was established to represent employees covered by collective bargaining agreements between the Union and various employers, employer associations and the City of New York with office buildings and schools requiring maintenance of heating and air conditioning systems in the New York metropolitan area.
The work of the Union, as the representative of its members, is to provide for the continuous employment of labor, to bring about stable conditions in the industry, and to establish necessary procedures for the amicable resolution of disputes which may arise between employers and employees.
Business Manager's Report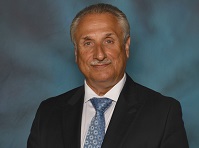 Our Voice is in Our Vote, Make Your Voice Heard - Speak Up and Vote!
Brother and Sisters,
Election Day is Tuesday, November 6. At a time when we embrace the changing of the seasons, we will also have the opportunity to embrace a change in our government. For too long, good, decent, and hard-working men and women go through their lives complaining about taxes, crime, crumbling infrastructure, homelessness, and everything else touched by government. Yet, when it comes time to elect the men and women who will make the critical decisions addressing and potentially resolving those complaints those voices go silent.
Change is in your hands. Vote!
We've all heard the excuses: "My vote won't make a difference." "These politicians are all the same." "Nothing will change." The reality is, the only thing that doesn't change are the excuses.
If you think voting doesn't count consider this: in 2016 only 58% of all registered voters cast ballots; in New York that number was a mere 52.2%; with 59% New Jersey surpassed the national average.
As a result, we find ourselves in a country under one-party rule. Reasonable debate has been lost. Long time friendships are being shattered, families are divided. How could this have happened?
Elections have consequences
It happened because too many people just didn't care. Don't let apathy put your family and our country's future in other people's hands. Elections have consequences. Vote!
On Tuesday, November 6, we will be electing the next Congress. We have seen what can happen when one party controls both the House and the Senate. This is our opportunity to again restore the balance and engage in debate as the Founding Fathers intended. Vote!
Statewide in New York, we will be voting for Governor, Attorney General and Comptroller. Local 94, along with the entire New York Coalition of Operating Engineers have endorsed and urge you and your family to re-elect Governor Andrew Cuomo, Comptroller Thomas DiNapoli, and elect Letitia James Attorney General. Vote!
Negotiations Underway
As the New Year rapidly approaches so does the expiration of our current collective bargaining agreement. We have already begun preliminary conversations with the Realty Advisory Board (RAB) on a new contract.
Those conversations are just the beginning. If history is any guide we are a long way from a new agreement. As many of you know, rumors and idle speculation spread like wildfire during these negotiations.
To halt the spread of rumors and ensure all our members are on the same page, and playing for the same team, we will soon be organizing the "Freeze Team" and "Operation Deep Freeze."
Further details will be discussed at our membership meetings.
Finally
Elsewhere in this newsletter we will introduce you to a team of school workers in Queens who not only handle their day-to-day duties, but also spend time as farmhands. That's right farmhands.
John Bowne High School in Flushing not only features a working seven-acre farm complete with chickens, livestock, birds, as well as a fish farm and a collection of exotic creatures including snakes, and reptiles.
In this issue you will also meet Fatime McKeon, who with her appointment as assistant chief at 48 Wall Street, created another crack in the glass ceiling. At the other end of the spectrum we salute our longest serving members; and will hopefully trigger some memories from the Family Picnic and events which help support our Scholarship Fund.
And finally, VOTE!
In Solidarity,
Kuba J. Brown
Business Manager/Financial Secretary-IUOE Local 94, 94A, 94B
More topics in this section:
Need to Find a Doctor, Dentist or Vision Specialist?
FAQs
What is my current status?
Please call the Union Office at (212) 331-1800. You can also visit the Contact Us page for more information.