Local 94
The International Union of Operating Engineers Local Union 94, 94A, 94B was established to represent employees covered by collective bargaining agreements between the Union and various employers, employer associations and the City of New York with office buildings and schools requiring maintenance of heating and air conditioning systems in the New York metropolitan area.
The work of the Union, as the representative of its members, is to provide for the continuous employment of labor, to bring about stable conditions in the industry, and to establish necessary procedures for the amicable resolution of disputes which may arise between employers and employees.
Business Manager's Report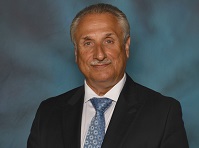 Securing a New Contract is Our Christmas, New Year Priority
Dear Brothers and Sisters:
Let me begin by wishing all of our members and your families a healthy and Merry Christmas, Happy New Year and joyous holiday season. Through your hard work and diligence we have much to be thankful for; but there is still work to be done.
No one needs to be reminded that even as we reflect and celebrate the joys of the season, we do so with an eye towards the future. Right now, that means a new collective bargaining agreement. Our priority must be to secure a new collective bargaining agreement which will continue to ensure the health, safety and security of our members and our families.
During our pre-negotiation meeting in September you made it emphatically clear that maintaining quality health care and a secure financial future were to be our priorities at the bargaining table. I cannot tell you how proud I was to hear our members call for increases to our health, annuity, training, and other benefit funds!
By making those demands a priority demonstrates a vision that is too often lacking in our world today. Apparently, that vision has been instilled among our members from the earliest days of this local. As we move forward with our negotiations it is important we remember and thank those members who stood strong and walked those early picket lines which helped create those funds.
They were the members who insisted we not only invest in pensions and health care, but also invest in training. They understood the value and importance of developing new skills. That is why we are among the best trained and highly skilled engineers anywhere in the world.
So as we work toward a new contract, and celebrate this holiday season, let's be thankful for their foresight and courage, and committed to build upon their legacy.
A Head Scratching Election
The midterm elections brought some good news for labor and our local. Along with the re-election of Governor Cuomo, Attorney General Eric Schneiderman and Comptroller Thomas DiNapoli all but one of the candidates endorsed by Local 94 won their races.
It is good to see that New York is still and will remain a pro-labor state.
The national results I fear do not bode so well for organized labor, and all working-class families. What has me scratching my head is how the Republicans captured control of the senate by running against the president's record.
So the nation voted against a man who ended two unpopular wars; helped raise wages and salaries; provided health insurance for more than 10 million men, women and children; has unemployment under 6%; and gas prices about to fall under $3.00 a gallon.
The people have spoken. Now let's work together to build a better America. One way we can help build a strong nation is to buy American. When doing our Christmas shopping let's read the labels. Let's buy Americanmade and help keep America working.
It's not as hard as you might think. In this internet age we can now go online to find sites like Buy American and the I Buy American Store
Most importantly, have a healthy, safe, and joyous Christmas and Happy New Year.
Fraternally,
Kuba J. Brown
Business Manager/President-IUOE Local 94, 94A, 94B
More topics in this section:
Need to Find a Doctor, Dentist or Vision Specialist?
FAQs
When are Union meetings?
Local 94 meetings are held on the second Wednesday each month, at 8:30 AM, 2 PM and 5 PM. Please note that there are no meetings in July and August. For more information, go to the Upcoming Events page.