Local 94
The International Union of Operating Engineers Local Union 94, 94A, 94B was established to represent employees covered by collective bargaining agreements between the Union and various employers, employer associations and the City of New York with office buildings and schools requiring maintenance of heating and air conditioning systems in the New York metropolitan area.
The work of the Union, as the representative of its members, is to provide for the continuous employment of labor, to bring about stable conditions in the industry, and to establish necessary procedures for the amicable resolution of disputes which may arise between employers and employees.
Business Manager's Report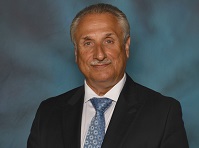 As The Training Fund Turns 30, a Salute to Its Founders and Those Who Keep it Going
Dear Brothers and Sisters:
The members of Local 94 have rightly earned the reputation as the industry leaders in optimizing the most complex, sophisticated and energy efficient systems and machinery in the world. Our reputation and continued success are in no small part a tribute to the faculty and staff of our Local 94 Training Fund.
This year marks the 30th Anniversary of the Fund. To recognize its importance to our union we have devoted most of the space in this newsletter to telling its story. Since 1986, every member of Local 94 have passed through its doors. We have become so familiar with the faces of Howard Styles, Bobby Fantine, Lucy Del Valle and the 30 instructors we can easily take their contributions for granted.
The size of the facility, the large faculty, and the hands-on learning with state-of-art equipment, we see today may never have been imagined in 1986. But Business Manager John Bowen and the Local 94 leadership including Tom Costello knew and understood, if the members couldn't keep up with changing technology, it wouldn't be long before there were no members.
Two make-shift classrooms were created in the basement of our former home at 345 W. 44th St. Local 94 had a Training Center.
It is also long past time our members were told their stories and fully acknowledge their contributions and recognize those who continue to teach and keep our members on the Cutting Edge!
Nominations for Local 94 Officers
It doesn't seem possible, but the three year terms of Local 94 Officers and Executive Board will end in September. Nominations for Officers and the Executive Board will be accepted at each of the May 11 General Membership meetings.
Please read the special notice on this page. A copy of the formal announcement, which will be mailed to the home of all members in good standing, appears on pages 18-19 of this newsletter.
Be reminded: You must be in good standing to make, or second a nomination.
Make sure your dues are up to date. We urge every member to attend one of the May 11 meetings. This is YOUR Union, participate.
The Fight for Prevailing Wage
It's been nine years since Mayor Michael Bloomberg created a two-tier wage system in New York City's schools shortchanging hundreds of our members. Over that time our members who work for the DOE have been making at least $7 an hour less than employees of the private contractors doing the same work.
It was a terrible and unjust decision then, and it becomes more outrageous and galling with each passing day! Yet, despite years of protests, public hearings, and face-to-face meetings, the injustice continues.
But we have not given up the fight.
I along with Ray Macco and Jack Redden recently sat down with Mayor de Blasio and Robert Linn in an effort to settle this matter. Everyone agreed this issue must be resolved fairly and equitably. So once again, we will sit down at the table and will negotiate until we have fair and just agreement. We will not rest until we have justice for our members!
Final Notes
As important as the quality of our work, our members also know and understand the value of family. It is why we have been able to provide 10 four-year Scholarships to the sons and daughters of our members. Those Scholarships are funded through a series of Local 94 fund-raising events.
We salute the previous year's honorees at our annual Dinner-Dance in January; we hold Golf Outings in the Spring and Fall; and we announce the next class of honorees at the Summer Picnic.
Profiles of 2015 winners appear on pages 12/13; photos from Dinner-Dance can be found on Pages 14/15.
Which brings us to the Family Picnic, after more than 30 years the sale of Platzl Brauhaus, has forced us to change the venue and the date. The 2016 Family Picnic will be held on Saturday, July 23 at Fountain Springs Country Club, a spectacular facility on a lake in Ringwood, NJ.
With additional facilities including boat rides and zip lines, we believe there will be something for everyone. Karen and I look forward to seeing you there!
In Solidarity,
Kuba J. Brown
Business Manager/President-IUOE Local 94, 94A, 94B
More topics in this section:
Need to Find a Doctor, Dentist or Vision Specialist?
FAQs
When are Union meetings?
Local 94 meetings are held on the second Wednesday each month, at 8:30 AM, 2 PM and 5 PM. Please note that there are no meetings in July and August. For more information, go to the Upcoming Events page.