Local 94
The International Union of Operating Engineers Local Union 94, 94A, 94B was established to represent employees covered by collective bargaining agreements between the Union and various employers, employer associations and the City of New York with office buildings and schools requiring maintenance of heating and air conditioning systems in the New York metropolitan area.
The work of the Union, as the representative of its members, is to provide for the continuous employment of labor, to bring about stable conditions in the industry, and to establish necessary procedures for the amicable resolution of disputes which may arise between employers and employees.
Business Manager's Report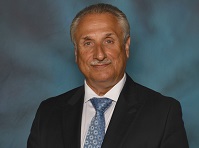 Welcoming the Holiday Season with Thanks and Gratitude
Brother and Sisters,
With Thanksgiving and the Christmas season upon us there is no better time for reflection and thanks.
With that in mind allow me to begin this message by thanking you, the members of Local 94. I cannot tell you how proud I am in the knowledge that I represent the finest engineers in the world. I am forever grateful for the opportunity to represent you.
I never could have imagined I would have the privilege to have been here for 48 years and 16 of those years as your Business Manager!
Believe me, I could not have imagined when I began my career as a Helper that one day I would be sitting in this office. I assure you no one knows what this job is about until you walk through that office door.
When you build relationships, engage solid and committed leaders, it works. Your continued support tells us we have the right people in place to get things done. Every member of your Executive Board Tom Hart, Ray Macco, Mike Gadaleta, Jack Redden, Kelly Drummond, Philip Baffuto, John Cancel, Vincent Curcio, Bill Caramico, Anthony Fasulo, Rocky Ferrigno, and David Rodriguez, are committed to you and your families.
It is a commitment we fulfill every day, and one we will continue to honor. You have placed your trust in us as a team. You have placed your trust in me. I do not take that lightly. I will be here for as long as you will allow me to stay.
We are not going anywhere.  
Committment throughout our Union
The membership of Local 94 is justifiably proud of our reputation as the premiere engineers in the New York City building industry. It is a reputation that has been built on a shared commitment to training. It was not that long ago, when engineers were considered little more than glorified janitors.
It was a perception that was never true. Rather than ignore that slight, the Local 94 leadership, with the full support of the membership made an investment to training. That commitment made 33 years ago is an investment that continues to pay dividends today.
The evidence of that success can be found throughout the pages of this newsletter. On pages 4-6 is a story on Local 94 Chiefs and Engineers who once again swept REBNY's Engine Room of the Year Awards.
Turn to page 29 and you will find a story on the purchase of new hands-on training aids for the Training Center. You can also read (pg. 21) about the initial graduating class from an innovative "apprentice program" created within the Training Fund by Howard Styles and David Hawkins.
These things do not happen without the support of you the members.
Allow me one final word of thanks to the men and women of the Local 94 staff. Each week hundreds of members call our offices or come through our doors with any variety of issues. Maybe there are issues with dues payments, health care or pension issues.
Any of a hundred of clerical issues or oversights life can throw at you and need to be addressed.
When those issues do arise, there is someone, or sometimes more than one person here at 331-337 West 44th Street, who is ready — and more importantly able to resolve the problem.
For most of you, they are the faceless voices on the telephone. Or, you may see them at our Family Picnic, or Scholarship Dinner-Dance.
So as we come to the end of another year, we decided to put a face to voice; and names to the faces.
These dedicated men and women are the engine that keep this union running.
Happy Thanksgiving and Merry Christmas,
In Solidarity,
Kuba J. Brown
Business Manager/Financial Secretary-IUOE Local 94, 94A, 94B
More topics in this section:
Need to Find a Doctor, Dentist or Vision Specialist?
FAQs
What is Local 94's address?
331-337 West 44th Street, New York, NY 10036 (located between 8th & 9th Avenues). For more information, go to the Contact Us page.