Local 94
The International Union of Operating Engineers Local Union 94, 94A, 94B was established to represent employees covered by collective bargaining agreements between the Union and various employers, employer associations and the City of New York with office buildings and schools requiring maintenance of heating and air conditioning systems in the New York metropolitan area.
The work of the Union, as the representative of its members, is to provide for the continuous employment of labor, to bring about stable conditions in the industry, and to establish necessary procedures for the amicable resolution of disputes which may arise between employers and employees.
Business Manager's Report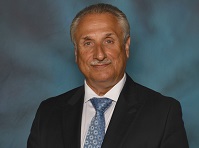 In a Fight for Our Future; We Carry Our Message to City Hall & Beyond
Brothers and Sisters,
As you know I have grave concerns over the expansion of Right to Work laws and other attacks on organized labor and workers in general. Based on the actions of President Trump and the antiunion Congress I brought my message to City Council Member I. Daneek Miller, Chairperson of the Civil Service and Labor Committee. As a result of that meeting I was invited to testify before his committee on April 19.
I want to express my thanks and gratitude to the many Local 94 members who filled the steps of City Hall that morning to show their commitment to our union and the efforts being made by Councilmember Miller and his committee. I have never been more proud!
Here is my testimony:
Good morning Chairperson Miller and members of the Committee. For those who I haven't met, my name is Kuba Brown and I am the Business Manager of the International Union of Operating Engineers Local 94-94A-94B. I want to thank you for this opportunity to speak to you on behalf of the more than 6,000 men and women I represent in IUOE Local 94, as well as all working men and women – union and non-union alike.
The members of our union operate the most sophisticated commercial and residential buildings in the world. We also operate power plants and work in hotel engine rooms as well New York City public schools. Through collective bargaining they have guaranteed wages, vacations and holidays, have a defined benefit pension plan, health insurance, and an employer funded training fund.
In addition, our union has been able to create annuity and sick funds, as well as a college scholarship fund for our members. Just as importantly, our business agents are available to represent our members anytime a dispute arises with management.
We have been able to develop and grow these programs and provide representation because of the dues our members pay to their union. Dues are the lifeblood of organized labor. And right now unions all across the country are seeing their ability to collect dues disappear.
Having it taken away by the devilishly misnamed "Right to Work" laws. The reality is they should be named Theft of Services laws. Under Right to Work, members are "free" to refuse to pay dues, fair-share, or agency fees but may not be denied any of the rights and protections enjoyed by all other union members.
There are already 28 Right to Work states. The six most recent added since 2011 when Wisconsin Governor Scott Walker with the support of his legislature used a budget amendment to destroy the teachers and other public employee unions.
Even as we watched each of those states turn on their unions, we convinced ourselves "well, it can't happen in New York." I'm sure the union workers in Michigan, Indiana and West Virginia all once strong union states thought the same thing until it happened and their union brothers and sisters in those states stopped paying their dues.
I admit Right to Work would be a very hard sell in New York. However, in November the New York ballot will include a referendum calling for a Constitutional Convention.
If approved who knows if Right to Work or other anti-labor positions will be discussed.
What concerns me right now is that anti-labor forces backed by the Koch brothers are now pushing national Right to Work legislation in Congress. That bill now has more than 20 co-sponsors.
If Right to Work becomes the law of the land it will not only be the death knell for unions, but for the middle class. The numbers don't lie. Let's start in Wisconsin: according to a University of Michigan study since 2011 total teacher compensation in Wisconsin has dropped 8% or $6,500, and according to the federal Bureau of Labor Statistics the percentage of union members in the state has dropped from 15.2 in 2009 to 8.1 in 2016.
Nationally, 10.7 percent of the workforce or 14.6 million workers were represented by unions. By contrast, in 1983 when the BLS conducted its first count, 20.1 percent of American workers or 17.7 million men and women were union workers.
If anyone isn't convinced a union card matters, according to that same BLS report weekly earnings of nonunion workers was $802, or 80-percent of those in unions whose average weekly earnings were $1,004.
Those are only the wage earnings and do not include the health and welfare, pension, sick days, vacations, union representation and other benefits.
So in November, families including many life-long union families frustrated by having to work for lower wages, if they found work at all, voted Donald Trump who promised to fight for the American worker and "Make America Great Again!"
It may be great for the billionaire in his cabinet and the Koch Brothers. For the workers not so much.
Along with its Right to Work legislation Congress has quietly voted to nullify two of President Obama's labor regulations: the Fair Pay and Safe Workplace Rule, which requires federal contractors and subcontractors to disclose any labor law violations that occurred during the previous three years; and the OSHA regulation requiring employers to maintain accurate injury and illness records
While President Trump promised a "Yugh" trillion dollar infrastructure program, in recent days he has made the plan contingent on health care and tax reform; he even talked about public-private partnerships and changes to the Davis-Bacon Act which insures workers on these projects are paid the prevailing wage.
His appointment of Neil Gorsuch to the Supreme Court will almost certainly lead to a rehearing of Friedrichs vs California Teachers Association which would permit public employees to stop paying union dues or agency fees.
As we used to say when I was growing up in Brooklyn "talk is cheap." And what is happening in Washington right now is putting the future of the middle class and this great country in jeopardy.
Thank you for this opportunity to speak out here today.
 In Solidarity,
Kuba J. Brown
Business Manager/President-IUOE Local 94, 94A, 94B
More topics in this section:
Need to Find a Doctor, Dentist or Vision Specialist?
FAQs
What if I get injured on the job?
Benefits are not payable for occupational accidents, injuries or sickness covered by any Workers' Compensation statute or similar legislation. All claims in relation to an injury or a condition that is directly or indirectly job-related are not covered by the Fund. For more information, please visit the Health and Safety section.